IAM Joins Effort to 'Stop the Cuts' for Retiree Pensions
Go IAM iMail   Thu. September 10, 2015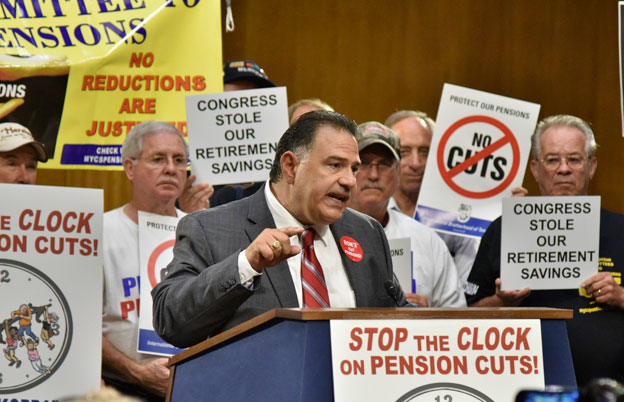 IAM General Vice President James Conigliaro speaks in support of the Keep Our Pension Promises Act at a news conference on Capitol Hill.
When American workers set aside part of their paychecks toward a pension, they used to expect that money to be there for them in their old age. Now, after a Republican Congress slipped a dubious provision into last year's budget, all bets are off.
Cutbacks in retiree benefits, except in plans completely out of money, had been prohibited under ERISA for more than 40 years. That is, until Congress passed the so-called Multiemployer Pension Reform Act allowing "deeply troubled" plans to cut the pensions of current retirees. While the IAM National Pension Plan is well funded, it sets a dangerous precedent for millions of retirees.
Today, retirees fought back.
The IAM joined other unions, the Pension Rights Center (PRC), AARP and other retiree advocacy groups to lobby legislators, appear at a Treasury Department pension hearing and take part in a news conference on Capitol Hill to call for passage of the Keep Our Pension Promises Act of 2015. The bill will "Stop the Cuts" in pension benefits that are looming for retirees in troubled multi-employer pension plans.
ACT NOW: Stand with retirees to protect pensions
"We kept our promises and the government needs to keep their promise," said IAM General Vice President James Conigliaro, speaking at the news conference. "They need to fund the Pension Benefit Guarantee Corporation, stop the cuts and make sure that retirees don't have to live in poverty."
| | |
| --- | --- |
| | |
| | Retirees came from across the country to speak out against cuts to troubled multiemployer pension plans. |
More than 10 million Americans depend on a multiemployer pension plan for their retirement security. While most multiemployer plans are well-funded, some plans are facing significant funding shortfalls.
"There can be no real retirement security if your pension can be cut after you retire," said IAM International President R. Thomas Buffenbarger in a letter to Congress. "The overwhelming majority of retirees do not have the means to increase their income either because of health issues or age discrimination. Allowing cuts in promised benefits is a ticket to poverty and dependence on government assistance."
Allowing cutbacks for multiemployer plans will have an effect on all workers, says former IAM General Secretary-Treasurer Robert Roach, Jr., now a board member at the Pension Rights Center in Washington, DC.
"Gutting ERISA is going to have a detrimental effect not just on the people in multiemployer plans, but on those who depend on all other types of plans," said Roach. "It's a slippery slope to destroy defined benefit pension plans and shift the financial responsibility onto the participants."
Fifteen-year retiree Whitlow Wyatt, a benefit recipient from one of the troubled plans who came from Columbus, OH to attend the hearing with his wife Barb, says he feels "betrayed, very disappointed, and kind of scared" at the possibility of paying for health care costs without the retirement money he expected.
"If they reduce our benefits as much as possible, it won't be a matter of just tightening the belt, it'll be pure survival," said Wyatt.
MORE PHOTOS: Retirees storm Capitol Hill to protest pension cuts
Sen. Bernie Sanders (I-VT) and Rep. Marcy Kaptur (D-OH) introduced the Keep Our Pension Promises Act in their respective chamber of Congress.